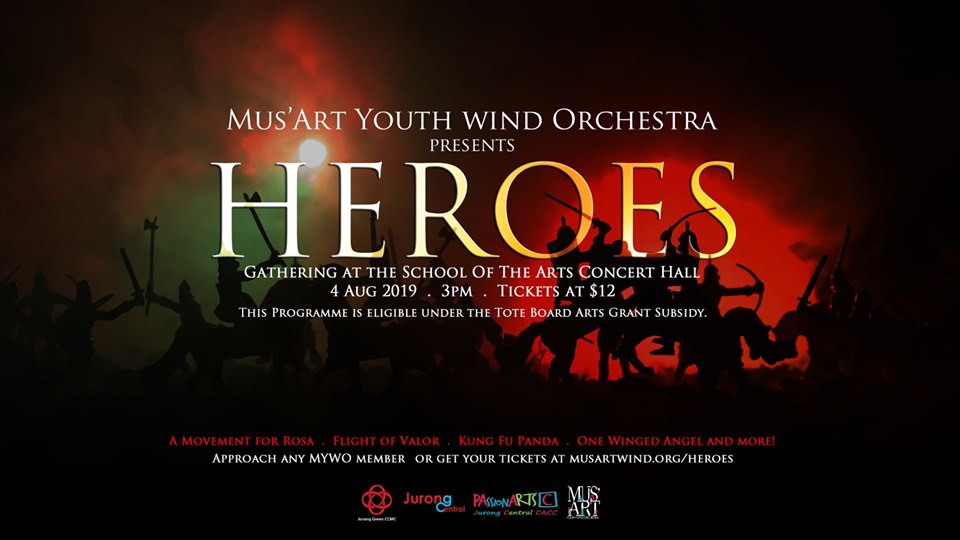 This year, Mus'Art Youth Wind Orchestra commemorates our personal heroes. Who are our heroes and why do they inspire us?
Through a specially curated repertoire of music, we pay homage to those who have amazed us with their bravery, stood up against injustice, and made thankless sacrifices for their loved ones and the greater good. We honour the tenacity of Rosa Parks and the resilience of the survivors from the 2011 Japan earthquake with A Movement for Rosa by Mark Camphouse and The Sun Will Rise Again by Philip Sparke.
Our favourite animated heroes are also part of the celebrations, with Super Mario and One Winged Angel. We finally return home to our national heroes who keep the flag flying high to complete our jubilant tribute to our all-time heroes from around the world.
Date: 4 Aug 2019
Time: 3 PM
Venue: School Of The Arts Concert Hall
Programme: A Movement for Rosa, Flight of Valor, Kung Fu Panda, One Winged Angel and many more!
Tickets: $12 (Buy directly from our website through the link below)
This programme is eligible for the Tote Board Arts Grant Subsidy. (Letter of Eligibility)